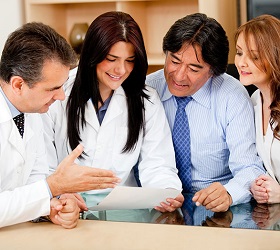 Median Salary
$75,470
Years of School
4+
Job Outlook
Good
Healthcare administrators are responsible for planning, managing and coordinating the medical services that are offered in the place that they work.
This may be the management of the entire doctor's office or a specific department within a hospital.
They may also work in laboratories and other types of medical facility.
Job Description
Healthcare administrators are different to most other people that work in the healthcare profession because they are not involved with the treatment of patients.
They are involved with the running of the healthcare facility that they work for.
This includes managing the finances and ensuring that all the other employees are happy.
They may also be responsible for any marketing that takes place for the facility.
The main duties of a healthcare administrator are described below:
When any new healthcare laws or regulations are introduced the administrator will need to research these to gain a good understanding of them.
When anyone is required to speak on behalf of the facility then this will usually be the role of the administrator. This could be to the media or to potential financial backers.
Scheduling the rotas and ensuring that there is adequate staffing at all times.
Supervision of other staff to ensure their well-being.
Be responsible for implementing new procedures at the facility and making sure that all staff are aware of these and understand them.
Managing the finances of the facility.
Salary
The average salary for a healthcare administrator is $75,470.
The highest 10% of earners get around $152,330 per year while the lowest 10% earn about $52,670.
There are many factors that can influence the amount that a healthcare administrator earns such as the number of people they are responsible for and the size of the organization that they work for.
In order to earn the top salaries in this progression you really need to be working somewhere that employs at least thirty physicians.
You will be paid an annual salary rather than an hourly rate but there are usually the opportunities to earn bonuses.
The nature of the job means that it will sometimes be necessary to work weekends and holidays and there may be occasions where you have to come in on your day off.
Average Annual Salary by State
| State | Avg. Annual Salary |
| --- | --- |
| Alabama | $69,656 |
| Alaska | $83,382 |
| Arizona | $72,739 |
| Arkansas | $67,895 |
| California | $82,428 |
| Colorado | $74,207 |
| Connecticut | $79,125 |
| Delaware | $78,244 |
| Florida | $70,611 |
| Georgia | $72,299 |
| Hawaii | $76,556 |
| Idaho | $69,656 |
| Illinois | $77,804 |
| Indiana | $71,712 |
| Iowa | $70,904 |
| Kansas | $70,684 |
| Kentucky | $69,583 |
| Louisiana | $72,886 |
| Maine | $74,134 |
| Maryland | $75,308 |
| Massachusetts | $83,529 |
| Michigan | $75,602 |
| Minnesota | $78,318 |
| Mississippi | $65,326 |
| Missouri | $72,152 |
| Montana | $69,877 |
| Nebraska | $69,436 |
| Nevada | $76,483 |
| New Hampshire | $77,510 |
| New Jersey | $83,823 |
| New Mexico | $68,555 |
| New York | $88,153 |
| North Carolina | $71,932 |
| North Dakota | $68,482 |
| Ohio | $73,180 |
| Oklahoma | $69,730 |
| Oregon | $77,070 |
| Pennsylvania | $78,978 |
| Rhode Island | $77,730 |
| South Carolina | $69,289 |
| South Dakota | $64,592 |
| Tennessee | $68,042 |
| Texas | $72,886 |
| Utah | $69,583 |
| Vermont | $72,446 |
| Virginia | $73,620 |
| Washington | $80,299 |
| West Virginia | $66,941 |
| Wisconsin | $73,033 |
| Wyoming | $66,794 |
Education
You will need to have at least a bachelor's degree to become a healthcare administrator.
However, many top administrators also have a master's degree and so this is something that you may want to consider.
Ideally, the degree would be in a business related subject with a specialization in a field that is associated with healthcare.
Being self-motivated and committed to achieving your goals are other useful skills to have.
It is more important that healthcare administrators have a background in business than medicine.
You will need to have a bachelor's degree as a minimum requirement but most administrators also hold a master's degree.
It is possible for people that already work in the healthcare industry in a medical capacity to make the transition to healthcare administrator.
If this is the case then the person will usually study for an MBA while working in their new role.
There are also some schools that offer degrees in healthcare management.
This can be a good choice if you know that you only want to work in healthcare and not any other area of business.
These courses will focus on aspects of the business that are specific to the healthcare industry and may not apply to other industries.
In particular, there is a lot more involved in hiring doctors and nurses than there is with employees for other types of business.
Some courses that you may take on a degree such as this are listed below:
Courses that are related to basic business practices such as finance and accounting.
Systems and functions used in healthcare.
Quality analysis in healthcare.
Improving healthcare services.
Marketing techniques for healthcare services.
Personnel management for healthcare employees.
Certification & Licensing
Some states require you to have a healthcare administration certification, but this is only if you will be working in a nursing home or an assisted living facility.
If you will be working in a doctor's office or hospital then this certificate will not be required.
If you do need this certificate then you will need to take the American Association of Healthcare Administration Management exam which will cost $200.
The exam has four sections and you will need to get a passing score on at least two of these in order to pass.
You will have to retake and pass any sections that you have failed within eighteen months otherwise the whole exam will need to be taken away.
There are 100 multiple choice questions that will need to be answered and these are split across the four sections of the exam.
Job Outlook
There is a lot of competition for healthcare administrators but there is also a lot of demand for talented candidates which means that the job outlook is good.
In the next ten years, the number of new healthcare administration roles that will become available will increase by 22% which is above the average growth rate for all jobs in this period.